At the INTERMOT Fair in Cologne this October, we will introduce the new K60-Scout sizes, 120/70 B19 M/C 60T M+S and 170/60 B17 M/C 72T M+SThe K60 Scout is a true dual-sport tire, bringing a proven balance of performance both on and off road; and the new tires are expected to perform up to the standards set by the rest of the Scout family.
The new sizes are the product of nearly two years of development work, with thousands of testing kilometers under extreme conditions.
As all members of the Scout family, the new sizes are approved up to 190km/h (118mph) and marked "M+S".
Through modifying certain profile elements and an optimization of our special bias belted construction, the Scout enables a high driving stability – especially in curves. The tread blocks had to be altered from previous designs to allow a driving stability similar to road tires. But this has not been done at the expense of off-road performance.
To meet the requirements of the new generation of long-distance enduros, like BMW R1200GS LC or KTM 1190 Adventure, We have used a compound, which is optimized for wet grip and mileage, and which is similar to the existing range of K60 Scouts. Thus, the balance between durability and street performance, wet grip and traction, is achieved for the tires most long-distance travelers appreciate.
The tires are expected to be available at the market in spring 2015.
---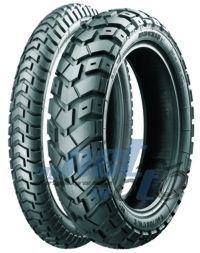 2011 - The new Heidenau K60 Scout is the follower from some dimesions for the #K60. Better wet grip and cornering stability with god handling characteristics. Like its predecessor, it offers the high negative share in profile enough traction on the ground that he could put in several practice tests around the world demonstrate.

By modifying certain profile elements, optimized design of the tire carcass and tread compound for improved especially in the Scout reaches a very high cornering stability and a much safer when wet.
available size
rear
140/80-17 M/C 69T TL M+S K60 Scout
140/80-18 M/C 70S TT M+S K60 Scout
150/70B18 M/C 70T TL M+S K60 Scout

front
110/80 B19 M/C 59T TL M+S K60 Scout
90/90-21 M/C 54T TL M+S K60 Scout
moto, mota, motorcycle tyres tirs, pneumatici, gomme, pneus, neumáticos, motorbanden, mc dæk, daek, mp renkaat, pneu motocyklové, motorgumik, anvelope, opony motocyklowe, pnevmatike, motocikla riepa, padangos, gume, Моторезина,